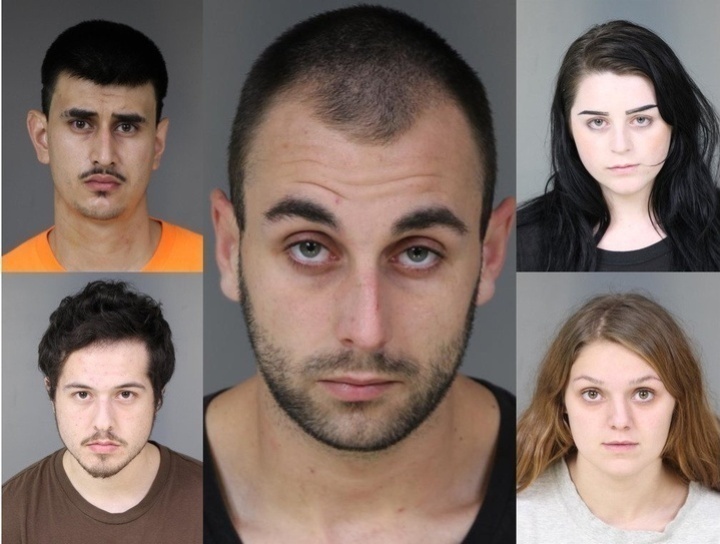 Five defendants accused of a Dec. 12 murder and carjacking near Manila are scheduled for trial in May.

This morning Judge Christopher Wilson set a May 15 jury trial for Brandon James Mitchell, 21, Catherine "Catie" Lynn Suzanne Fode, 19, Hector Godoy-Standley, 21, Cesar Octavio Valenzuela, 23, and Tamara Nicole Thomson, 18. All are charged with murdering 20-year-old Tyson Eduardo Claros, shot four times during a carjacking on state Highway 255.
The five were arraigned today on charges filed after a preliminary hearing held last month. Through their attorneys, each pleaded not guilty to murder and carjacking. Mitchell also denied the special allegation that he personally discharged a firearm, and Thomson, Valenzuela and Godoy-Standley each denied personally using a firearm.
More charges have been added for Thomson, now also accused of making terrorist threats and personally using a firearm while making those threats. During the preliminary hearing, eyewitness "Jane Doe" testified that Thomson pulled a gun on her and Claros and "said she was going to put lead through both our heads."
Except for Godoy-Standley, all defendants agreed this morning to give up their right to a trial within 60 days. But Godoy-Standley's attorney David Celli did not agree to a time waiver, so the trial was set for May 15. Judge Wilson noted, however, that if another of the lawyers files a motion to continue, and "good cause" is found for a delay, the trial will be continued.
Celli has been hired to represent Godoy-Standley. The other four defendants have court-appointed attorneys.
According to court documents and testimony, Claros was killed because Mitchell and Fode believed he molested their 3-year-old daughter. A plan was hatched for Thomson to ask Claros for a ride from Eureka to McKinleyville. "Jane Doe," a good friend of Claros,' was driving. On Highway 255 near Manila, Thomson began demanding that Jane Doe turn around. When Doe pulled over and began arguing with Thomson, she allegedly pulled a handgun and threatened to use it.
It was then that the other four defendants pulled up in another car and ran up to Doe's vehicle. Valenzuela is accused of pointing a gun at Doe and ordering her out of her car. Mitchell allegedly went to Claros' side of the car, then shot him four times.
Thomson told investigators she had no idea Claros was going to get shot. She said he was being set up for "an ass-whipping," which she thought was appropriate if he had molested the little girl.
Claros was never charged with molestation, although an investigation was ongoing. Fode had taken her daughter to Mad River Community Hospital on Sept. 24, saying the child claimed "Uncle Tyson" put his fingers in her vagina. The doctor called the Humboldt County Sheriff's Department, and the matter was then referred to the Eureka Police Department.
In interviews with a special team that investigates child abuse, the little girl reported no molestation or abuse. The EPD detective handling the case testified that she planned to follow up by interviewing Claros. He was killed before she was able to contact him.
Although the child belonged to Mitchell and Fode, at the time of the killing Fode was in a relationship with Godoy-Standley.
Thomson and her boyfriend Valenzuela were arrested hours after the murder, with both confessing their involvement and implicating the others. Within days Mitchell turned himself in and Fode and Godoy-Standley were arrested.
Investigators recovered three handguns that reportedly were used during the incident and then tossed afterward.
###
PREVIOUSLY: