After nine months of sometimes-harrowing escapes in the wilds of Southern Humboldt, it all came to an end for murder suspect Zachary "Zach" Harrison in the Walmart parking lot in Eureka.
Eureka Police Department Officer Joseph Couch, testifying today in Harrison's jury trial, said he drove into the store's parking lot on June 6, 2018, after receiving a call that someone matching Harrison's description had been seen there.
Couch, under questioning by Deputy District Attorney Adrian Kamada, said he drove through the parking lot and spotted a man he at first didn't recognize. The man was talking with another person in a vehicle.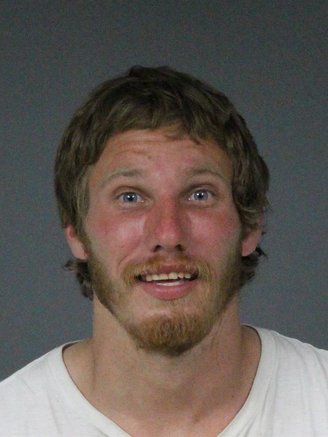 "I got out out of my car," Couch said. "He was with another male. I was trying to be as nonchalant as I could, saying 'Hey guys, what are you up to?' "
By then he knew he'd encountered Harrison, who had remained on the loose despite an intense, months-long manhunt. He asked Harrison for his name.
"He said John or something like that," Couch recalled. "I knew he was giving me a false name. I knew Zachary Harrison."
Then the handcuffs went on, and Harrison was booked into Humboldt County Correctional Facility on a warrant charging him with the September 2017 murder of Alderpoint resident Robert Holtsclaw.
The videotaped arrest was played this afternoon for the jury who will decide Harrison's fate.
As Harrison was being handcuffed, the officer remarked "They've been looking for you down in Southern Humboldt."
"I know," Harrison said. "I've been on the run for a long time now because you guys have been chasing me."
"We have. You're right."
During cross-examination, Deputy Public Defender Brie Bennett asked whether Harrison had tried to run or had made any "furtive movements."
"No," Couch said. The officer saw no weapons, and Harrison was carrying no contraband.
Another officer, district attorney's investigator Ryan Hill, testified about a March 2018 incident in Alderpoint, where Harrison had been hiding in a mobile home at 118 Sixth St. He fled from the trailer and wasn't caught.
Hill, who was a sheriff's deputy at the time, said he searched the trailer and found a "Stoker F-50 air rifle" and six rounds of Barnes 30/30 rifle ammunition. The ammunition was under a cushion in a dining room chair.
In testimony earlier this week, sheriff's Deputy Travis Mendes said he found a spent 30/30 rifle cartridge near where Holtsclaw's body was found. The 58-year-old Holtsclaw was shot dead as he sat in his pickup truck outside 118 Sixth St. He was dropping off his friend Tory Hennings after the two men participated in a horseshoe tournament at the town's firehall.
According to Hennings, Harrison first pointed the rifle at him and then shot Holtsclaw.
In a photo shown to the jury, Holtsclaw's blue Ford F250 truck is in a ditch, with his tarped body lying next to it. There is blood on the back of the driver's seat.
An Alderpoint volunteer firefighter, the first on the scene, testified he pulled Holtsclaw out of the truck's window. He and others tried for 45 minutes to resuscitate him, but he never breathed or moved.
Holtsclaw had what appeared to be a bullet wound near his left armpit, the firefighter said.
During the 29-year-old Harrison's time as a fugitive, he made one escape by jumping naked into a fast-flowing river and swimming across. Many of his friends and associates were arrested on warrants during the search.
Tomorrow may be the last day of testimony in the trial. Judge Kaleb Cockrum told the jury three witnesses will be called, and their testimony may or may not overlap into Friday. Cockrum said he expects jurors to have the case by Monday afternoon, after attorneys present their closing arguments.
The three witnesses are expected to be a firearms expert, the pathologist who performed Holtsclaw's autopsy and the lead investigator in the case.
If convicted of all charges, Harrison faces a possible two life terms in prison.
###