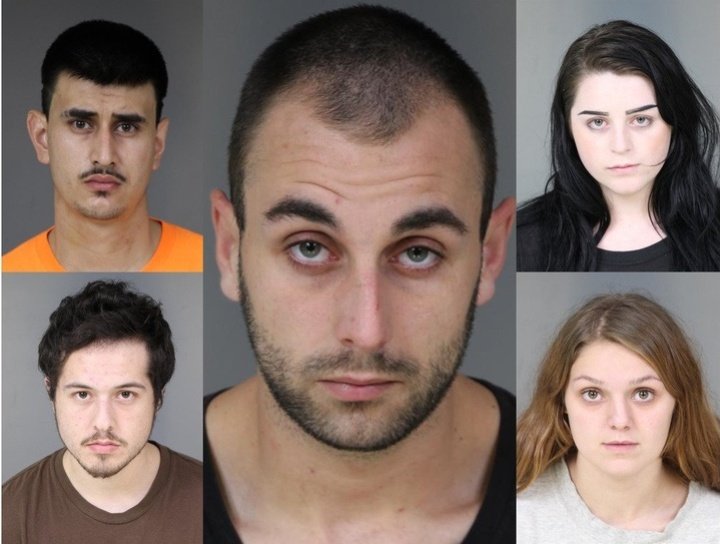 ###
A January jury trial has been scheduled for four suspects charged in a December 2016 murder and carjacking near Manila.

This morning attorneys for Brandon James Mitchell, Cesar Octavio Valenzuela-Campos, Hector Godoy-Standley and Tamara Nicole Thomson confirmed they will be ready for trial on Jan. 21. A trial confirmation hearing was set for Dec. 12, which will be three years to the day since 20-year-old Tyson Eduardo was shot to death on state Highway 255.
A fifth defendant, Catherine Suzanne Lynne Fode, has already pleaded guilty to voluntary manslaughter and will testify for the prosecution. The other four remain charged with murder.
The five allegedly committed a carjacking that ended when Mitchell shot Claros multiple times. The defendants then fled, some in Godoy-Standley's car and others in the car Claros had been riding in. They left behind an eyewitness, the woman who had been driving that car.
Godoy-Standley was Fode's boyfriend at the time, but she and Mitchell had a 3-year-old daughter whom they believed Claros had sexually molested. The child was interviewed and reported no molestation, and Claros was never charged.
Because of rules about how the testimony of co-defendants can be used during trial, Valenzuela-Campos will be tried separately from Mitchell, Thomson and Godoy-Standley.
Deputy Public Defender Casey Russo, representing Valenzuela-Campos, said this morning the group will most likely be tried first.
The case is also complicated by California's new felony murder law. In the past, those who participated in a felony, even if they had no idea someone would be killed, could be held responsible for murder. The new law requires that they must have acted with the intent to kill or participated in the crime while acting "with reckless indifference to human life."
Godoy-Standley's attorney, Russell Clanton, has filed a motion to dismiss his case on various grounds, including the fact that he is developmentally disabled. A local psychiatrist was adamant that Godoy-Standley was incompetent to stand trial, but doctors at Napa State Hospital disagreed.
This morning Judge Christopher Wilson said he will either make an oral ruling on the dismissal motion on Dec. 12, or will issue a written ruling before then.
All five defendants, including Fode, have been in Humboldt County Correctional Facility since shortly after the killing. Fode and her friend Thomson are now 21. Valenzuela-Campos, Thomson's boyfriend at the time, is 26. Mitchell is 25 and Godoy-Standley is 24.
Thomson is represented by court-appointed attorney David Nims and Mitchell by court-appointed attorney Andrea Sullivan. A third appointed attorney, Neal Sanders, is defending Fode.
Deputy District Attorney Carolyn Schaffer will be the trial prosecutor.
###
PREVIOUSLY: