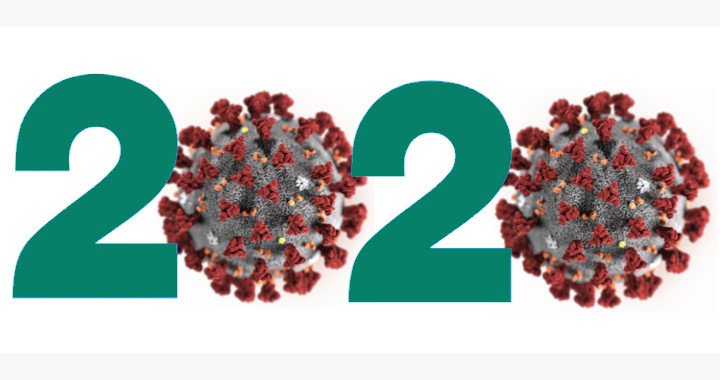 What was 2020? No one knows. It came out of nowhere and walloped us upside the head, and it'll be many years and decades before we actually get a solid grip on whatever that was that just happened to us over the last 12 months. It feels like some kind of turning point. But what kind? We don't know.
But it is done, and now's the time to take a look back. Here at the Outpost, we know of no better way to do the traditional wrap-up of recent Humboldt County history than to look at the most-clicked-upon stories of the year, which we figure amounts to a sort of psychographic snapshot of our collective mind.
Without further ado: The 25 most-read Lost Coast Outpost posts of 2020.
###

25. 'I Worry I Could Be Spreading It': Local FedEx Drivers Say They're Not Getting Enough COVID-19 Protections
As Supervisor Rex Bohn likes to say about the pandemic: "We are literally building the plane while we are flying it."
Early on, just weeks after the virus was even identified, there was a great deal of fear about so-called "fomites" — the possibility that the disease could be spread through touching infected surfaces. Later study determined that this is far less common than had been feared in the days when we were all wiping down our groceries with bleach, but that back then delivery drivers — suddenly more in demand than they had ever been before — had reasonable fear that they could be vectors of spread.
We talked to a couple of FedEx-contracted drivers who had these concerns and more. Specifically, they were worried about working conditions in the warehouse, and about being urged to come to work even if they were running a fever.
24. A Redding Megachurch Leader Came to Humboldt and Flouted Mask Rules. Her Ministry is Now the Source of a Major COVID Outbreak.
Bethel Church is a major political force in Shasta County, our doppelganger to the east, where the spread of the virus has been on the worse side of terrible throughout much of the pandemic.
One of the church's spiritual leaders visited Trinidad during one of her county's many spikes — which included an outbreak at her own megachurch — then got mad at us locals for asking her to wear a mask. She took to Instagram to vow to her flock that she would spend no more dollars in the charming seaside village. See ya!
23. (VIDEO) Comedian Joe Rogan Gives Humboldt a 'Holla,' Praises Sheriff Honsal for Refusing to Enforce Proposed Beaches Closures in Latest Podcast
In late April, photos began circulating of crowded beaches in Southern California. In response, Gov. Gavin Newsom reportedly hinted to a statewide police organization that he would soon order the state's beaches closed. Humboldt County Sheriff William Honsal pointedly announced that he would not enforce this order in Humboldt County, were it to come.
This earned him some plaudits from the most powerful media man in America — podcast host Joe Rogan, an aficionado of nutritional supplements, mixed martial arts and weed. Honsal tipped his hat on Instagram, but Rogan's cheerful "holla!" at the mention of Humboldt County might not have been for the reasons Honsal supposed.
Anyway, Newsom backed down.
22. (VIDEO) Eureka Police Remove Anti-Masker From Costco By Force, Say Case Will be Forwarded to DA for Charging Decision
It was destined to happen, and finally it did — viral video of a COVID truther insisting upon her right to shop unmasked. Technically this lady was detained by police for snatching an employee's phone out of their hands and refusing to return it until they arrived, but everyone else seemed glad to see her go for any reason.
21. CANCEL-19: A Running List of Humboldt Closures and Cancellations Related to Coronavirus Fears
A week before the first shelter-in-place order, the writing was already on the wall. Local events were being canceled one by one, and this post was keeping track of them.
Then everything was canceled.
20. Second Humboldt Case of COVID-19 Confirmed Today; Patient is Said to Have Recently Traveled to a 'High-Risk Area'
Humboldt's second confirmed coronavirus case came nearly a month after its first. Just a few days earlier, the county and the state had each issued shelter-in-place orders in response to out-of-control outbreaks elsewhere in the nation and the world. We were just ahead of the curve for a while, there.
19. LIVE: Shelter-in-Place Order Press Conference With the County Health Department
Dr. Teresa Frankovich, the county's health officer, and Sheriff William Honsal did a live stream from the county Board of Supervisor's chambers on the eve of the first shelter-in-place order in order to explain what it meant and why it was necessary.
"The pace of change in this event has been staggering," Frankovich said early on in the video, which is worth a rewatch if you want to re-experience the sinking dread we were all feeling at that time, the sense that everything was dissolving.
18. (UPDATE) Body Found on Hwy. 101 Safety Corridor Near Mid-City Motor World
He was 66-year-old Eureka resident Robert Wolf, who had been missing for a month. The coroner determined that he had not been a victim of a traffic collision.
17. Five Additional Humboldt People Test Positive Today, Bringing Total Number of Known Local COVID-19 Cases to 10; One Case May be Due to Community Spread
A week after the shelter-in-place order. This was a big jump at the time.
16. NEW EVACUATION WARNING: Everyone East of the Highway as Far North as Myers Flat is Now Urged to Be Ready to Go
In the end, the largest wildfire in California history was stopped just short of the county line. But the August Complex was touch-and-go for us, for a while, and there came a moment when it threatened to jump the Eel River and burn its way to Garberville.
That never happened, but several hundred people in the east County were displaced from their homes for a while, and lots more had to live on the edge of their seats for a few days.
15. Still Confused About Humboldt County's Shelter-in-Place Order? Here's an Overview, in Broad Strokes
It took a little while to adjust to the new normal (which, blessedly, might not be the norm for much longer). Here's where we attempted to break down the shelter-in-place order issued by the county the day previous, just a couple of hours before the whole damn state shut it down.
14. TODAY's COVID-19 REPORT: Four More Cases Confirmed Throughout the County; Total Confirmed Cases Rise to 18
Again: This was late March. Seems quaint now, right?
13. THE 1918 PANDEMIC: Schools, Churches, Masks and Quack Cures at the Height of the Deadly Flu Outbreak
We were very pleased to run local historian Lynette Mullen's series on the parallels between Humboldt County's experiences the last major pandemic, 100 years ago, and today. We're also very pleased that you read it.
If you missed it, this installment is a decent place to start, with a look at how several local institutions — restaurants, schools, law enforcement, churches, the elections office — adapted to the later stages of the pandemic. It's eerily familiar.
12. OBITUARY: Paxton Ulyanna Marleigh Austrus, 2016-2020

A heartwrenching obituary of a three-year-old girl survived by her twin sister and the rest of their family. It's still amazing to me how well her parents were able to capture the spirit of this small, beautiful person in the depth of their grief.
11. (VIDEO) Woman Tells Arcata Cashier She Looks Like an 'Illegal Immigrant' After She's Asked to Cover Her Face While Inside the Store
The intersection of xenophobia, mask denialism and a particular flavor of Humboldt lowlifery.
10. Expired Unemployment Boost, EDD Debacles Sink Jobless Californians
November was the beginning of an especially dark time for people who lost their jobs during the pandemic. CalMatters reporter Orlando Mayorquin spoke to an unemployed and newly homeless Eureka woman, among others across the state, to figure out what the expiration of benefits and a state snafu meant for our neighbors who have been pushed to the margins.
9. Eureka Man Reportedly Attacked By 18-Foot Shark While Kayaking in Shelter Cove; Local Fishermen Rescue Him From Icy Water
This year may have been the year of the virus trying to kill you, but every year is the year of the ocean trying to kill you. Fortunately things turned out OK for a Eureka man fishing from his kayak at Shelter Cove — he was able to fend off the great beast that was presumably attracted by the blood of his catch, which had dribbled down from his craft into the waters.
The victim punched the shark in the face to make him go away, but not before the brute bit a hole in his kayak. Sector Humboldt Bay and local fishermen came to the rescue.
8. RE-SHUTDOWN: Governor Orders Statewide Closure of Bars, Indoor Dining, Movie Theaters, Zoos and More in Response to Spiking COVID-19 Numbers
The middle of July brought what some were calling a "second wave" (though that's something of a semantic quibble), and with it came new state restrictions. It was a big one — restaurants were barred from serving indoors, bars and movie theaters were shut completely. This came only a couple of weeks after Humboldt County had loosened its own restrictions somewhat.
7. Video Shows Three People Running for Their Lives as Multiple Waves Nearly Sweep Them Off the North Jetty
The second ocean-related incident on the list takes us to the North Jetty, which is perpetually among the most deadly spots on the Humboldt County coastline. A woman visiting from Utah was swept from the jetty right before a local drone pilot caught this video of people barely making it back to safety.
Please: Do not walk out on the North Jetty. Do not do it. This is why you don't do it.
6. BREAKING: Masks Mandatory Starting Friday; Health Officer to Mandate Face Coverings for Indoor Spaces Outside Your Home, Or Wherever You Can't Stay 6 Feet Away
It took science a little while to catch up to the fact that masks were effective in slowing the transmission of the virus, but by April it got there.
5. (VIDEO) Beachgoers Swept Off Feet by Moonstone Sneaker Wave
Sneaker waves kill. This one — somehow, thankfully — did not. This is the video you want to show to the person who just moved to Humboldt County and doesn't yet know about the dangers of our beaches.
4. BREAKING: Humboldt County 'Shelter-in-Place' Order to Take Effect at Midnight
Word got out on the morning of the March 19 that the hammer was going to drop. It didn't come exactly out of the blue. Several Bay Area counties had already announced their own orders. NBA games were already being canceled. Tom Hanks had tested positive. Dozens of people of people in Seattle were dying each day. They were starting to die in New York.
Still, maybe there was some lingering thought that remote Humboldt County, with only one confirmed case, might somehow escape the wave that was cresting over the world. This was a splash of cold water to the face.
3. (UPDATING) Protesters Clash With Traffic, Demand Justice as They March Through Eureka, Demonstrating Against Racism and Police Brutality
Humboldt County hosted a number demonstrations against police injustice in the wake of the brutal murder of George Floyd in Minneapolis on May 25 — including in Arcata, McKinleyville, Fortuna and Ferndale — but the first was held in Eureka just days after that shocking event, and after people had been bottled up for two months.
Hundreds showed up to march in solidarity all around the city that Saturday, and while things were often tense, they remained mostly peaceful, with assorted acts of minor vandalism. An exception was when a passing motorist caught in the crowd aggressively drove away, clipping a demonstrator. The District Attorney's office would later bring reckless driving charges against him.
A couple of days after the demonstration, Eureka Police Chief Steve Watson, Arcata Police Chief Brian Ahearn and Sheriff Billy Honsal met with the community in front of Eureka Police Headquarters. There they, too, affirmed that they believe Black Lives Matter.
2. (UPDATE) Humboldt County Resident Diagnosed With Novel Coronavirus (COVID-19)
The bombshell. Humboldt County confirmed its first coronavirus case on Feb. 20, at a time when pretty much no one was taking the coming pandemic very seriously — surely they'd keep this virus, "the novel coronavirus," confined to unfortunate people in unlucky localities, as they did with SARS and MERS and Ebola and all the previous bugs that had popped up elsewhere, far away.
But then it was here. Our first patient — one of only a handful in the state, and the first in a rural county anywhere in the United States — had recently returned from China and was isolating at home. Another person, presumed but not confirmed to also be infected, had traveled with the first, and was also isolating. They both recovered, but notice had been given.
1. Fake News: What is the Epoch Times and Why Did It Arrive On My Doorstep?
There came a week when this odd newspaper, the Epoch Times, showed up in Humboldt County mailboxes unbidden. What the hell was it? Why was it in our mail? Why was it so mad at China, and why did it gush over our president so?
The Outpost's Freddy Brewster didn't have anything else to do on a slow Saturday, so he delved into the mystery a bit. The Epoch Times is a project funded by the Falun Gong movement, which certainly has reason to be mad at China, and lately it had been attempting to increase visibility through such mass-mailings in different parts of North America.
All well and good, but the Times and its leadership, in its desire for revenge on the Chinese state, had slipped over some mental line into QAnon territory and crazyish COVID misinformation, some of it seemingly prompted by a desire to recruit President Donald Trump and his legions to champion their cause.
Freddy wrote all this up in snarkish Q&A fashion, and then something weird happened. The vagaries of Google placed his screed near the top of search results for "Epoch Times" for a spell, and that meant that all of America logged on to LoCO in the following weeks, as the confusing paper started arriving in other mailboxes in other neighborhoods across the land.
Freddy went on to bigger and better things. We still live in epochal times. Donald Trump lost the election. The vaccine is coming. The year 2020 came to an end.