Subscribe to Humboldt Holding Up on iTunes!
Though most of our alcohol consumption happens at home these days, it turns out that people do still drink during a pandemic (who knew?) and Alchemy Distillery — producer of Boldt whiskey, bourbon and gin — has been as busy as ever distributing its products to help make pandemic life a little more bearable. It also turns out that during a pandemic alcohol serves an even greater purpose than getting us sauced! Which is why earlier this year Alchemy temporarily shifted all its efforts to producing thousands of bottles of hand sanitizer to donate to local medical staff and other essential workers.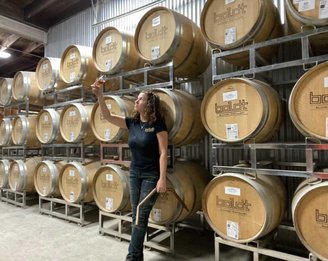 On this week's episode of Humboldt Holding Up, co-owner of Alchemy Distiller Amy Bohner shares the story of how the business stepped up when sanitizer was in low supply and what else Alchemy has been up to during COVID.

Other topics discussed with Bohner include:
Genever style gin? What's that?
The other family business, Alchemy Construction

What's the story with this whiskey made out of bagels?
Bohner's latest crazy whiskey project
Her great relationship with husband and business partner Steve and how his beard brought them together

So pour yourself a glass of your favorite spirit, and click the audio player above to hear Bohner's chat with LoCO's Andrew Goff and Stephanie McGeary and/ or scroll through past guests below. Please listen responsibly.