A summary of Chapman's press conference today. John Ross Ferrara.
Few new details were given regarding the murder of David Josiah Lawson during a press conference held in Humboldt State University's UC Quad this morning, but family and supporters of Lawson stood behind Arcata Police Chief Tom Chapman as he assured the media and community members that the case was still very much active.
Chapman stated that forensic testing is still being done on several key pieces of evidence, including a knife found at the scene of the crime, although he could not give a date as to when the results of those tests would be completed.
"The process is not quick," Chapman said. "As of today, we are still waiting for results from that forensics testing. When we receive those result — whatever they may be and whatever they look like — that will take the investigation in whatever direction it does."
For Lawson's mother, Charmaine Lawson, the process is not fast enough.
"It's been over two months, its way too long," Lawson said. "For me this is like snails crawling — it's not moving fast enough. I'm going to continually be coming back to Arcata, pressing and pushing for answers to make sure this does not become a cold case."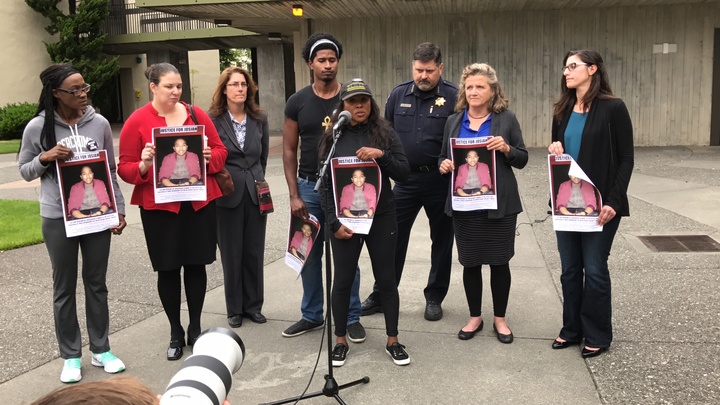 Chapman also fielded several questions from reporters and frustrated community members that did not offer any new insight into the investigation.
However, during the press briefing Chapman stated that there are still potential witnesses from the party where the 19-year-old HSU student was killed who have not come forward.
"Perhaps they don't know anything, perhaps they were there and didn't see anything and don't think it's necessary to come forward," Chapman said. "I adamantly disagree with that. Maybe they don't know what they know or don't know … we don't know."
The full press conference can be watched in the KHSU Facebook video embedded below.
Lawson was killed on April 15 after a dispute at a party around 3 a.m.
Suspect Kyle Zoellner was arrested that same day and charger with Lawson's murder. However, the 23-year-old McKinleyville resident was released after a five-day preliminary hearing in which a judge found insufficient evidence to hold him on murder charges.
A $21,000 reward has been offered for information leading to the arrest of Lawson's killer.
###
PREVIOUSLY