Above: Arcata City Councilmember Paul Pitino discusses the occupation.
UPDATE, 7 a.m.: The Mad River Union reports that Justice for Josiah protesters were prepared to wait to have their demands met and occupied Arcata City Council chambers until late last night.
Read more here.
# # #
Images: Stephanie McGeary
Original Post: Wednesday night's Arcata City Council meeting was cancelled and rescheduled for Thursday after protesters filled council chambers in support of slain HSU student David Josiah Lawson, who was stabbed to death 16 months ago. Lawson's case remains unsolved.

Just as the meeting was about to get underway, community members streamed into the room, lined the walls and began to chant at city officials, demanding they "Bring Tom Parker Back" — Parker is the retired FBI agent who spent some time working with the Arcata Police Department on the case until a few months ago when the relationship soured. City officials decided it best to call off the meeting. As of now, protesters continue to rally inside council chambers.
In advance of tonight's action the Justice for Josiah Lawson Committee released the below statement: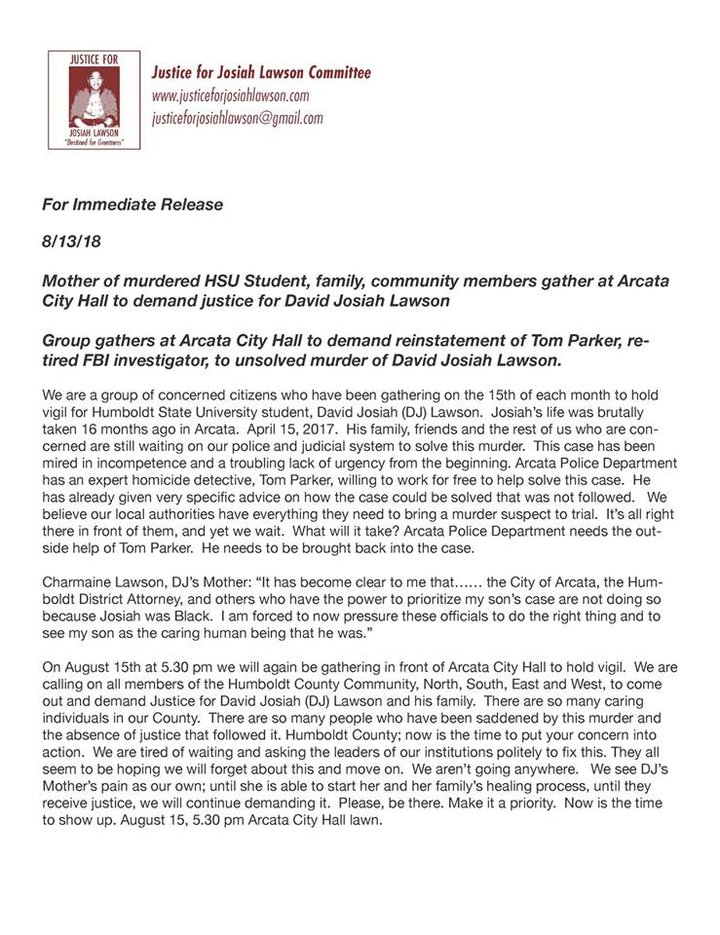 PREVIOUS LoCO COVERAGE: