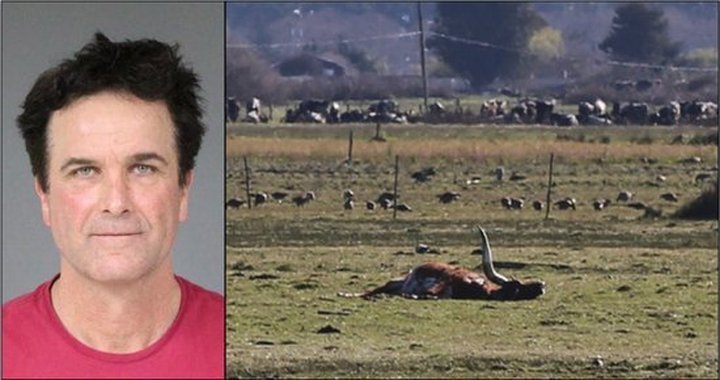 The final prosecution witness in the trial of Arcata rancher Ray Christie was a game warden who visited a Christie property a year before the massive March 2018 raid that ended with Christie's arrest.
Fish and Wildlife Warden Matthew Wells testified Tuesday that he found 13 cow carcasses when he, another state warden and a Humboldt County sheriff's deputy searched the property off Park Street in Eureka on March 30 and 31, 2017.
Some of the remains were found near state waters, others floating in small sloughs that drain into larger sloughs and eventually into Humboldt Bay.
Jurors, treated to another day of decay, were shown numerous photos of carcasses. Most on this particular property were reduced to bones.
Under questioning by Deputy District Attorney Adrian Kamada, Wells said he talked to Christie on the phone about three weeks after he surveyed the property. He said Christie told him he was leasing the land and there were approximately seven carcasses there when he began using it for cattle grazing it a couple of years earlier.
Under cross-examination by defense attorney John Cogorno, Wells said the only person he asked to remove the bones was Christie.
"I asked Ray Christie to remove the bones and notify me when he had done that and I never heard from Mr. Christie," Wells said.
Cogorno noted that removing the remains from near state waters must not have been an urgent concern.
"Did you invite him down to meet you?" Cogorno asked the warden.
"Yes, I did," Wells said. "I asked Mr. Christie to meet with me and he refused to meet with me."
Wells acknowledged he had not taken notes about Christie's refusal.
As he has with previous prosecution witnesses, Cogorno prompted Wells to admit he didn't know how the dead cows got there, couldn't say who owned them, couldn't say when they died or how long the carcasses had been on the property.
In previous testimony, it was revealed that law enforcement seized a bucket of nearly 1,300 identification tags that had apparently been removed from animals Christie bought at the weekly livestock auction in Fortuna.
In arguments outside the jury's presence, Kamada said it's believed Christie removed the tags so he could pass conventional cows off as organic. A state veterinarian testified removing the ID tags is a federal offense.
Christie is not charged in connection with the tag removal. He is accused of four felony counts of animal cruelty and 39 misdemeanor counts of littering within 150 feet of state waters. In this case the litter was many, many dead cattle.
Cogorno has pointed out there is no rendering plant in the county. So far in the trial, no-one has said what ranchers are supposed to do when an animal dies.
But in addition to the stacks of carcasses, law enforcement discovered live cows that were down and too weak to stand. Witnesses said they were dying of starvation and had no access to food or water.
Christie either owned or rented property off Park Street in Eureka, off South G Street in Arcata, on Clam Beach Road in McKinleyville, on Anderson Avenue in McKinleyville, on Jackson Ranch Road in Arcata and in Crannell and Orick.
Christie lives on the Jackson Ranch Road property, where a large stack of rotting carcasses was found. Estimates have ranged from 200 cattle down to 40. The lower number is a defense estimate.
Cogorno was expected to begin presenting his case this morning.
###
PREVIOUSLY: