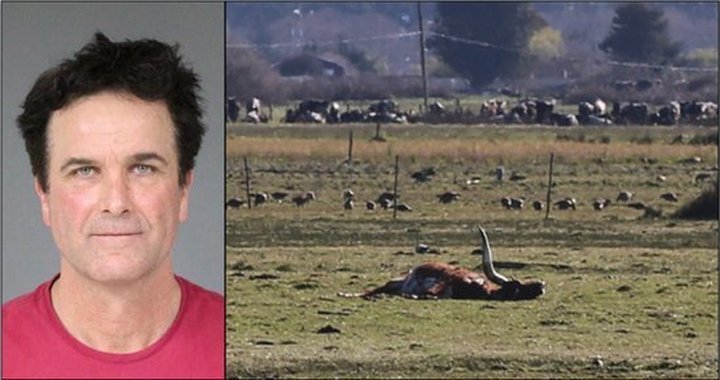 None of the dead calves, jammed-together cows and cattle standing in deep mud were on Ray Christie's Arcata ranch the night before law enforcement raided his properties, a defense witness testified Thursday during Christie's jury trial.
Brandon Horn, who was Christie's full-time ranch hand in March 2018, said he left the ranch about 10 p.m. on March 18 and none of the pictured animals were there. The next morning, livestock Deputy Travis Mendes videotaped three dead calves, cows crowded into a small pen and cattle in an outside corral with mud halfway to their knees.
Horn said a truck driver must have dropped off the live and dead animals in the middle of the night. He said it's not unusual for drivers to do that.
Horn was responsible for maintenance and animal care at Christie's ranch on Jackson Ranch Road, property off South G Street in Arcata and a ranch on Anderson Avenue in McKinleyville, where Horn still lives.
Christie, 56, is charged with felony animal cruelty and littering near state waters. Law enforcement officers found carcasses stacked or scattered on most of the property Christie owns or leases in the county. They also documented live animals that were emaciated and too weak to stand up.
Christie buys sub-par cattle, with the goal of restoring their health and selling them for a profit. Horn, under questioning by defense attorney John Cogorno, said cattle are sometimes improperly loaded, mixing "weak ones with strong ones, which is why some don't make the trip."
Cogorno asked Horn about an incident in December 2017, when Deputy Mendes came to the Anderson Avenue property after finding more than a dozen cow carcasses on the bank of the Mad River. Horn, his wife and Mendes walked out to a barn containing one dead cow, one live cow and one cow giving birth. Hooves were protruding from her birth canal.
"She seemed OK to me at the time," Horn said. "She was just going through the birth process and I was just letting her do her thing."
But Mendes reportedly thought the cow needed help.
"He put his gloves on and started pulling on the hooves," Horn recalled.
Mendes testified earlier it had been Horn and his wife who pulled on the hooves, and he didn't remember doing so.
After the deputy spoke with Christie on the phone and was assured the cow would be cared for, he left the property. Horn said Christie arrived later and delivered the calf, which had been in the wrong position.
"He was able to get the calf out, and a substantial amount of blood came out with that calf," Horn said. The cow died.
Three months later, as part of a multi-agency raid on Christie's properties, Mendes revisited the Anderson Avenue ranch and found three dead cows in the exact same position they'd been in the night the cow was giving birth.
"There was too much mud to get them out and bury them at that time," Horn explained. "We were just waiting for the mud to dry out."
Under cross-examination by Deputy District Attorney Adrian Kamada, Horn said the remains, by then just bones, were buried a few days after the raid.
As for the bone piles on the bank of the Mad River, Horn said he is "pretty sure it was from the people who were there before."
He acknowledged he once dragged a dead cow to the same spot, but only because he thought that's where carcasses were supposed to go. He said Christie "didn't even know" about the cow he dragged there until the raids happened.
On the night before the bust, Horn was at the Jackson Ranch Road property performing his usual duties. He checked all the fences, ensured all the cattle were doing well, fed them hay and secured the property, making sure all gates were closed.
When he arrived the next day, after law enforcement officers had left, he found open gates, the electric fence system unplugged and a bunch of cows that hadn't been there the previous night.
"Did you see three dead calves (the night before)?" Cogorno asked.
"Absolutely not. A lot of people bring cows in without Ray's knowledge."
"Have you seen dead animals delivered along with live ones?''
"Yes, I have."
One of the animals shown in the video was a small calf curled up in a ball in a corner. Horn said that calf had just been born and turned out to be a healthy animal.
One of the more disturbing images was of what appeared to be a dead calf, covered in mud and feces and trampled by larger cows in the pen. Horn said he believed the calf was an aborted fetus.
"It wasn't a live animal, I don't think."
When he left the ranch the night of March 18, the muddy corral was empty except for one dead cow that had been there for some time, Horn said. He said he and Christie had been planning to have the mud scraped out by a person hired for that job.
On the following day, officers also found a dead animal outside the corral on the ground. Horn said it must have been a "wild cow," which are mistakenly sometimes loaded with more-domestic animals, and it most likely spooked and jumped the fence.
"The wild ones haven't seen a human being in I don't know how long," Horn said. "The wild ones, they'll just blow right over that (fence.)"
Cogorno then asked about probably the most infamous part of Christie's case: a large pile of stacked carcasses, estimated at up to 200, on the Jackson Ranch Road property.
"We put them there because that was the highest point on the ranch," Horn testified. "That's the law … we stacked them in the best place we could do it at the time."
Horn said people consider the animals Christie buys "junk cows," sold for little to nothing.
"We turn them around to make them a productive member of the herd," he said with obvious pride. "That cow deserves a chance."
It was apparent Horn looks up to Christie, often beginning his sentences with "Ray taught me " or "Ray is adamant that …"
Ironically, Christie is charged with animal cruelty because he allegedly neglected some of his cattle enough that they died of starvation. But Cogorno has offered a number of other explanations throughout the trial.
Horn said sometimes the cattle eat poisonous plants, and they are prey animals.
"People's dogs chase cows all the time," he said. "There are coyotes and mountain lions and bears, a lot of wildlife … a pack of coyotes will run a cow until she drops. That's how they get their prey."
In addition to his duties at Christie's ranch and the Anderson Avenue property, Horn also was in charge at leased property off South G Street in Arcata. He visited there the night of March 18 and all was well.
During cross-examination, Kamada asked whether he fed the South G Street cows.
"No. They were on pasture."
"Did you see any carcasses?"
"No."
In earlier testimony, law enforcement officers said they found 10 carcasses on the South G Street parcel. Judging by Horn's testimony, however, he may not consider piles of bones to be carcasses.
Horn said he still works for Christie, but only part-time on the weekends. After the raids, he said, "Ray just didn't have the cows for me to work."
Horn was expected to be back on the witness stand this morning.
Judge Christopher Wilson is presiding over the trial.