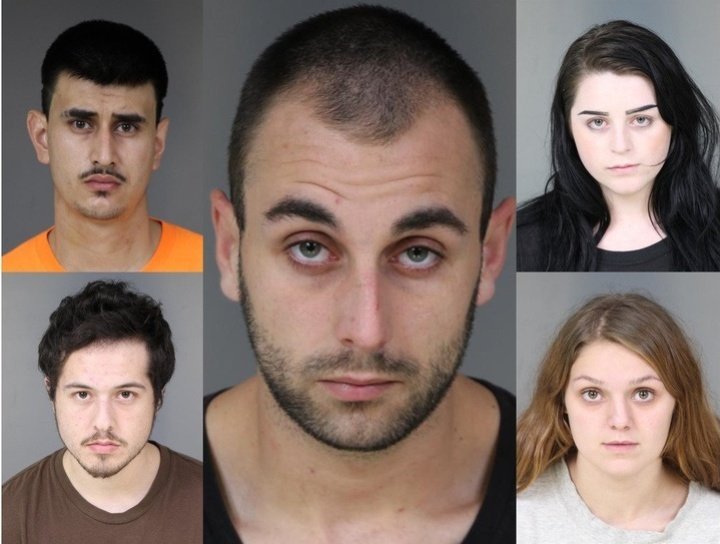 # # #
More than three years after 20-year-old Tyson Eduardo Claros was shot to death during a carjacking near Manila, attorneys for three defendants have confirmed they are ready for the jury trial set to begin next week.

This morning lawyers for Brandon James Mitchell, Hector Godoy-Standley and Tamara Nicole Thomson confirmed to Judge Christoper Wilson that they are ready to proceed to trial.

A fourth defendant, Cesar Octavio Valenzuela, will be tried separately after the group's trial concludes. And defendant Catherine Suzanne Lynn Fode has already admitted to voluntary manslaughter and will testify against the others.

It's estimated the first trial, including jury selection, will last eight weeks.

Mitchell and Fode reportedly wanted revenge on Claros, whom they believed had molested their 3-year-old daughter. The two, along with Fode's boyfriend Godoy-Standley, Fode's friend Thomson and Thomson's boyfriend Valenzuela, are accused of a December 2016 carjacking that ended when Mitchell allegedly shot Claros several times.

Claros was riding in a car driven by his friend "Jane Doe," who witnessed the incident and is expected to testify at trial. She was a witness during the group's preliminary hearing and mistakenly identified Valenzuela as the shooter.

Also expected to testify at trial is an unnamed informant who has provided information to the prosecution. At Deputy District Attorney Carolyn Schaffer's request, Wilson signed an order protecting the informant's identity.

The case is expected to be assigned to a particular court on Friday. Also on Friday, an evidentiary hearing is scheduled for Godoy-Standley, who is developmentally disabled. His attorney, Russ Clanton, has battled unsuccessfully for years to have Godoy-Standley declared mentally incompetent to stand trial.

Law enforcement investigated the claim that Claros molested the little girl, but no charges were filed.

Mitchell, Thomson, Godoy-Standley and Valenzuela are all charged with murder and carjacking and face life in prison if convicted.

Thomson told investigators she thought Claros was going to be beaten up, not shot. Thomson also said Godoy-Standley was "freaking out" after the shooting, saying "What did you get me into?"
# # #
PREVIOUSLY: