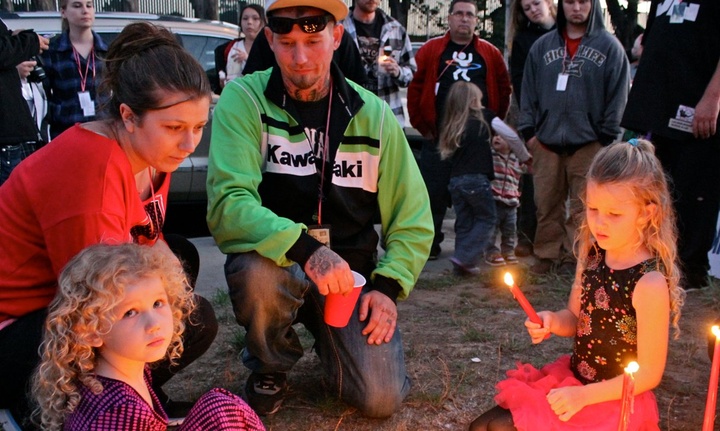 PREVIOUSLY:

###
Tommy McClain's arms were stretched out and his hands were in plain view when he was shot dead by a Eureka police officer, one of McClain's housemates testified today in federal court.

Nichole Mottern, who is married to McClain's cousin, said she was watching from her front porch when McClain was killed. She is "100 percent sure" that McClain's hands were visible during the entire episode. After McClain was pronounced dead at St. Joseph Hospital, she spoke with Eureka police detectives.

"I told them 'I hope you do a thorough investigation because it was very wrong. Tommy was complying and there was no reason to shoot him.' I feel to this day that it should have been considered a murder."
Mottern's testimony directly contradicts statements from three Eureka police officers, including the shooter, that McClain was reaching for a gun in the waistband of his pants when he was killed.
Today was the third day of testimony in the wrongful death lawsuit filed by McClain's parents, Lance McClain and Jeanne Barragan, against the city of Eureka and Officer Stephen Linfoot.
On Sept. 17, 2014, Mottern lived with her husband, two young daughters and 22-year-old Tommy McClain in a duplex on Allard Avenue in Eureka. She, her husband and McClain had been out celebrating her husband's birthday and had been home for a short time before the deadly encounter with police.
Mottern said she was upstairs preparing for bed when she saw bright lights outside.

"I ran down the stairs and out the front door and the whole yard was lit up," she testified under questioning by plaintiffs' attorney Dale Galipo. "I saw Tommy standing right there next to the porch and we looked at each other like 'What's going on?'
"She couldn't see who was behind the bright spotlight trained on McClain, but she heard shouted commands such as "Put your hands up" and "Get down." She also heard "I see the gun." Mottern said it was a chaotic scene, with "everybody yelling."
McClain was walking toward the sidewalk, Mottern said, with his arms out to his sides at chest level and the palms forward. The scene was so bewildering, she didn't know who was being yelled at or what the shouters wanted.

"I don't know whether they were telling him to put his hands up or get down on the ground," Mottern said. "I was very, very confused."

When McClain was shot, Mottern was in such shock and disbelief that "I thought they were going to kill me next."

After the mortally wounded man hit the ground, Mottern watched as police placed handcuffs on his wrists.

"They handcuffed him," she said through her tears. "His lifeless body."

Mottern said she had no idea that McClain was carrying any kind of weapon. After he was shot, police removed an unloaded pellet gun from his waistband. Officers had believed the gun was a semiautomatic pistol, and two officers had seen McClain take the gun out and "rack the slide" when he saw Officer Linfoot drive by in his marked police car.

Contrary to Mottern's testimony that McClain obeyed every police order, officers say McClain kept lowering and raising his hands and had to be told repeatedly to keep his hands up.

Finally, they say, McClain reached aggressively for the gun in his waistband. Linfoot opened fire and shot seven times, with three bullets striking McClain. Linfoot's supervisor, Capt. Brian Stephens, has testified that he had decided to shoot but Linfoot shot first.

Mottern had apparently not come out of the house yet when McClain reportedly was telling Stephens "You can't search me," and "I didn't do anything."

Police were doing surveillance in the neighborhood that night, looking not for McClain but another man. Two hidden officers reportedly heard and watched McClain confront a man who had parked his truck across the street, telling him "You need to leave." But Mottern says there was no such encounter with that man.

"Tommy didn't even say anything to him," she said.

She testified that McClain was very hard of hearing and had recently purchased some hearing aids at Miranda's Thrift Store. She wasn't asked whether he was wearing them that night. He was also "practically blind," Mottern said. He wore broken eyeglasses that were just perched on his nose. McClain had been drinking that night, but Mottern said she didn't believe he was intoxicated at the time of his death.

According to previous testimony, McClain never indicated he couldn't hear or understand the commands being given, and he also never behaved as though he thought he was supposed to get on the ground. Police say they were telling him "Get down here" so he would walk down to the sidewalk and they could safely take him into custody.

Jurors in the trial must decide whether police used excessive force or were negligent. They also must determine whether to award damages to the plaintiffs.

The trial was expected to continue Thursday morning before federal Judge William Orrick. The eight-member jury has now dwindled to six, the minimum required in a civil trial. One juror served only a day before she left because of a death in her family. Another panelist was excused today because he realized he "had knowledge" of one of the witnesses, Judge Orrick announced.
###
THE TOMMY MCCLAIN INCIDENT:
###
Outpost contributor Rhonda Parker previously covered courts for the Times-Standard.