Nearly a dozen community members spoke to the Arcata City Council during last night's meeting, demanding that the city seek help from the Department of Justice in the David Josiah Lawson case.

Next month will mark two years since David Josiah Lawson, a 19-year-old sophomore at HSU, was fatally stabbed at an off-campus party. His murder has since remained unsolved. The Humboldt County District Attorney's announced last week that a criminal grand jury had decided against issuing any indictments in the case.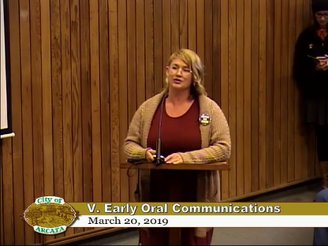 "We are angry and frustrated," Jill Larrabee said to the council. "We are asking for you to do everything in all of your power to help request the DOJ and AG take over the investigation and prosecution of this case."
The Arcata Police Department and Chief Brian Ahearn have said that they will continue to investigate Lawson's murder after the DA's announcement. But some community members said they fear that local authorities are not capable of bringing this case to a close.
"It's very apparent that no entity in this county is able to handle this case," Kelsey Reedy said to the council members. "It's been almost two years now and it's been told to us by multiple people that this is an open and shut case. We demand that you call in the DOJ."
Mayor Brett Watson addressed the speakers' concerns, saying that the council has been seeking state intervention on the case.

"We have sent letters previously to the Department of Justice and the Attorney General and right now we are working on new, refresh letters — new call for their help to step in," Watson said. "We're also reaching out to our fellow electeds, local and our state elected representatives to please also send additional letters."
Arcata City Manager Karen Diemer told the crowd that the council has sought help from the Police Foundation to investigate the city's response on the night Lawson was killed. Diemer said that the Foundation has completed its investigation, that the City should have the document by May, and that it will be made public.
###

PREVIOUSLY: