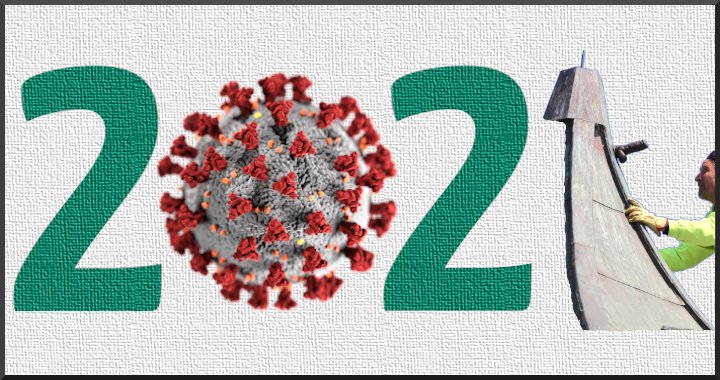 Well, that was that! Two thousand twenty-one (2021) is just about in the rear-view.
Was it a bad year? It wasn't the worst year. The vaccine flowed, miraculously, and if things didn't return exactly to normal, then they returned to more normal, with a promise of yet more normality on the horizon. More Humboldt County people were killed by COVID in the last six months of the pandemic than the entire first year, but kids went back to school. Plus, it rained.
But now it's time to skip the light fandango back through the year that was in traditional LoCO fashion — through the most-clicked posts of 2021! This annual exercise always illustrates the prejudice of the readership toward raw emotion in one form or another — anger or fear, often enough, but also, in beautiful sunny moments, pure glee. We are a species that likes to feel.
This year, though, we're introducing a new metric, and a separate list. These are the posts that the readers spent the most time on. While it may not be a perfect measure, we like to think that this is a rough sketch of the stories that most engaged the readership's higher faculties — those regions of the self that exist somewhere other than the limbic system. These are stories that we put a lot of work into because we felt it was important to do so, and they're the stories that you put a lot of work into for the same reason.
Either that, or they're stories that had good video.
Two lists, then! OK, let's go. Countdown!
MOST CLICKED POSTS

25. PG&E Illegally Clear-Cut Grove of Redwoods Near Redwood Acres, County Says
PG&E cut down some redwoods near Redwood Acres without county permits. The county didn't care for that.
24. Highway 101 Fully Closed in Northern Mendocino due to Snow Conditions; Chain Controls on 299 and 36
Everyone loves a snow day. This one didn't quite reach the snug factor we've achieved in previous years, when 101 and 299 and 36 all closed simultaneously and Humboldt could just cuddle under the blankets for as long as the hot chocolate held out, but it came close.
23. Bear River Rancheria Homicide Victims Named by Sheriff's Office; Person of Interest ID'd; No Arrests
The day after the most horrible crime of the year — a senseless and stupid triple murder committed by a teenager, who promptly went on the lam with the help of some adults — the Sheriff's Office released the names of the victims and a few details about the crime.
The suspect was later caught in Utah, and a couple of months later he pleaded guilty.
22. MASKS BACK UP: Humboldt Public Health Joins 25 Other Counties to Recommend Masking Indoors, Regardless of Vaccination Status
Remember that very brief moment, back in the summer, before Delta, when vaccinated people were welcome to cruise into the store or restaurant or coffee shop maskless and everyone was cool with it and it was like 2019 all over again?
This was the end of that.
21. Yes, Hillary Clinton Was in Humboldt Over the Weekend — and, Who Knows, Maybe She Still Is — For Reasons No One Cares to Talk About
The North Coast Journal finally found someone who dared talk about it. Sheriff Billy Honsal told the NCJ on the record that Team Hillary was here to film an interview with Yurok Tribal Court Judge Abby Abinanti for an upcoming documentary TV series.
But then, later, the Sheriff's Office would not repeat that information to the Times-Standard, and the food truck that posted the Clinton crew's lunch order to their Instagram page took down the post. All very weird!
20. THE REMASKENING: Humboldt County Facilities Will Again Require Masks Starting Friday
A little more than a week after the county started recommending masks indoors again, it started requiring masks in county facilities.
19. FLY TO L.A. FOR $20? Brand New Budget Airline Launches with Humboldt to Hollywood as Inaugural Route
Holy moly — so much cool airport news in 2021! Hello, Phoenix! Hello, Las Vegas! Hello, Reno!
But the announcement y'all loved the most was the announcement of cheap direct service to Lipstick City on a brand-new airline. Bonus: This airline flies in and out of the Los Angeles area's least-worst airport!
18. Myers Flat Woman Has Foot Amputated After Surviving a Vicious Dog Attack
Just an absolutely ghastly story of two pitbulls attacking and nearly killing a woman. The dogs were later euthanized, and their owner was prohibited from owning any other dogs for the next three years.
17. New Evacuation Orders Issued for the Knob Fire Burning South of Willow Creek
For the second year in a row, a very, very bad California wildfire season touched Humboldt County only around the edges. This was as scary as it got in Humboldt County in 2021 — a lucky blessing. It won't hold up forever.
16. "Scanner Traffic Indicates," Feb. 10.
This was the day of the triple murder at Bear River.
15. County Halts Giving 90 Percent of Vaccines On Hand Due to 'Severe Adverse Reactions' Reported Out of San Diego
This was a pretty scary post back in January, when the vaccines were first started rolling out, but it turned out to be nothing and those paused doses eventually went into arms.
14. Sac Bee Investigation Details Vile Group Chat Among Members of One EPD Squad
The Sacramento Bee's explosive investigation into the vile group chat between one squad of Eureka Police Department brought back the bad old days of the EPD, when the force was famous for behaving as an occupying army among the citizens it served. We thought that era was behind us, but it wasn't … or not completely so.
An internal investigation, conducted by a third-party firm, has been completed, but because of the frankly astounding amount of privilege and confidentiality afforded to this class of public servant through the laws of the state of California, the results of that investigation are not yet known.
13. Humboldt Rises Up Against Weepy Instagram Traveler Who Called Arcata and Eureka 'Horrible Disgusting Towns'
An ever-popular genre: Z-list influencer comes through town, talks trash, gets blasted!
This is generally followed by the backlash to the backlash — a Delta wave of miserable locals who wish to register that IT REALLY DOES SUCK HERE THOUGH.
12. Beloved McKinleyville Peacock, a 'Neighborhood Mascot,' Found Dead After a Craigslist Ad Ordered the Hit
This was just an amazing story of someone — a particular neighbor, perhaps? — using Craigslist to find a hitman who would take down a beloved-to-some, annoying-to-others feral bird that habituated a particular block of McKinleyville. Which happened!
It seems like every media outlet in the world picked up this story. A week later a suspect had been identified and a search warrant served, but all has been quiet since then.
11. Real Estate Giant Reportedly Agrees to Foreclose on Bayshore Mall
This one struck some sort of chord. Was it a story about the decline of the brick-and-mortal retail sector, accelerated by the pandemic? Or was it a story about the Mall getting what was coming to it, for decimating downtown businesses decades ago? You choose. Anyway, the mall is still open.
10. Child Dies Following Reported Medical Emergency at the Carson Mansion Pool
We phrased this cautiously at the time, but it was later determined that the nine-year-old boy did, in fact, drown.
9. Officer-Involved Shooting in the Arcata Bottoms: Sheriff's Office, Other First Responders Investigating
Weirdly, this was unrelated to the alert sent out earlier in the day about a sketchy person in roughly the same area.
This sketchy person was marching through the Bottoms with a firearm, apparently on his way to McKinleyville over the foot bridge. Officers repeated ordered the man — 35-year-old Eureka resident Charles Chivrell — to stop and speak with them. He refused, and told cops that he was headed up to McKinleyville to "clear out the Mexicans." They fired pepper balls at him, and he turned around and fired back with his weapon. The police shot him dead.
Body cam footage of the entire incident was released a couple of weeks later.
8. HOLY MOLY: 6.2 Quake Rocks and Rattles Humboldt
Biggest Second-biggest quake since 2010! That one, which included photogenic damage in Old Town, earned us a visit from Gov. Arnold Schwarzenegger. This time the only structure seriously hit was the old Creamery building in Loleta. (Thanks for the correction, @lurkylurker.)
7. NOAA Predicts 70 Percent Chance of Rainy La Niña Weather Across the Pacific Northwest This Fall, Winter
Did we call it or what?
6. Escaping Outreach: Former Members of Eureka Church Say It's a Cult With a History of Hiding Sexual Abuse
The only article to make both lists is Ryan Burns' long story on young people who have escaped from the orbit of the Eureka-based Gospel Outreach church, a formerly up-from-hippie outfit (though one with odd ties to a genocidal Latin American regime) that seems to have taken a very dark turn.
5. Two Arrested Today After Months-Long Fentanyl Trafficking Investigation, Drug Task Force Says
This was not the biggest of the year's many fentanyl busts. Why was it the clickiest? We do not know. Is it because the fentanyl was orange?
4. COVID REPORT: One Death, Three Hospitalizations, 71 New Cases Since Friday; Those New Quarantine Orders
Again: Very far from the most devastating daily COVID update. Why was it far and away the most read? Perhaps because of those new quarantine orders — which were actually a relaxation of the orders that were previously in effect.
3. COVID Hospitalizations Break Records in Six California Counties
Humboldt was one of the counties that our friends at Calmatters identified in August as having suddenly reached peak hospitalization, over a year after the beginning of the pandemic. Others included Del Norte, Mendocino and Lake counties.
2. The City of Eureka Has Removed the Mysterious Dildo Atop the Old Town Gazebo
What a wonderful day this was, this day when a large phallus suddenly appeared atop the Old Town Gazebo! Or was it only the day when we first noticed it? How long had the phallus been there? Who knows! Whoever put it there put it there in such a way that it seemed to be an integral part of the design, and so perhaps the public's eyes had simply passed over it for days, or weeks.
It seemed to belong there. But other people disagreed, and we were very delighted to document the city's removal of the object, which was nearly as silly as the thing itself. It was really screwed on there good! It didn't want to come off!
But come off it did, and Dan Savage delivered the eulogy. Goodbye, Old Town Dildo. We will always have this memory.
1. Aggressive Dog Allegedly Owned by Chris Brown Found Loose in Humboldt County, Euthanized on Christmas Eve After Serious Biting Incident at Singer's LA Home
Usually the very clickiest post of the year is one that transcends Humboldt's humble boundaries. TMZ originally broke the story of Chris Brown's prized Caucasian shepherd and its weird journey to a Humboldt County hideout after viciously attacking the singer's domestic help, but the Outpost's John Ferrara filled in some of the gaps in the story on the local front — how the dog came to reoffend while hiding in Miranda, and why the Sheriff's Office put it down.
###
OK, now on to the stories that readers spent the most time reading, on average. You want to feel good about yourself in 2022? Read the ones you missed when they came out.
LONGEST READ POSTS
1. County Employees Threaten Legal Action Over 'Failures' of Auditor-Controller; Workforce Board Pursues 'No Confidence' Vote
2. Humboldt Unsolved Cases Database Includes HCSO's Backlog of Missing Persons and Suspected Homicides
3. 'IT STARTS TO HURT YOUR SOUL': Two St. Joe's Nurses Talk About Life Inside the ICU During COVID
4. Escaping Outreach: Former Members of Eureka Church Say It's a Cult With a History of Hiding Sexual Abuse
5. Inside the Turmoil at Peninsula Union School, Where Staff Say That a Much-Lauded Administrator Governs Through Intimidation
6. As County's Fiscal Fiascoes Mount, Feds Impose Tax Liens, Contractors Plead for Their Money and Department Heads Sound the Alarm
7. 'Something is Broken': County Staff, Supervisors and Department Heads Confront Auditor-Controller in Collective Airing of Grievances
8. THE CANNABIS CONVERSATION: Right Now, the Economic Outlook for Humboldt County Seems Pretty Bleak
9. The Ocean is Scary Right Now: Humboldt Locals Share Their King Tide, Monster Wave Footage
10. County Employees Threaten Legal Action Over 'Failures' of Auditor-Controller; Workforce Board Pursues 'No Confidence' Vote