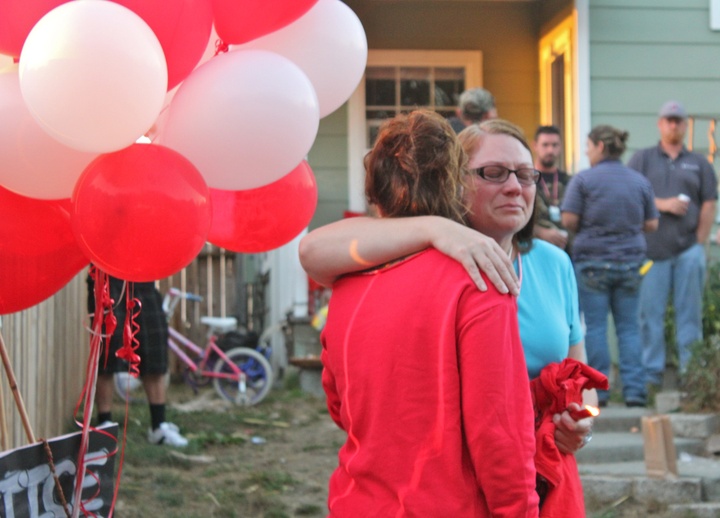 ###
PREVIOUSLY:

###
There was a flood of tears today at the federal courthouse as Lance McClain and Jeanne Barragan spoke of their son's death at the hands of Eureka police.
McClain and Barragan, parents of 22-year-old Tommy McClain, wept openly as they testified during trial in the wrongful death suit they filed against the city of Eureka and Officer Stephen Linfoot.
"Me and my son were tight. He was my everything," the elder McClain said. "He was my friend. We were tight … real close." Lance McClain, a resident of Madera, Calif., sobbed that losing his son has devastated his life.
"It's affected everything about me. Nothing's the same. It's just created a black hole inside my soul. He was my only child. He's all that I ever wanted."
Linfoot shot Tommy McClain to death shortly after midnight on Sept. 17, 2014, in McClain's front yard on Allard Avenue. The officer listened intently today to the bereaved parents' testimony. He has said he shot in self-defense as McClain was reaching for a gun stuffed in his pants. Although he believes he made the right decision when he opened fire, he sympathizes with the family.
Barrigan, who lives in Fresno with her husband and their children, said her life has been profoundly changed by the slaying of her oldest child. She described Tommy as funny, full of life, always smiling and happy, a lover of animals and children. She said her son had no criminal record.

Tommy was so excited when he moved to Eureka, she said, and he was elated when he got a job with a local roofing company.

"I shared his excitement and I was proud of him" Barragan said.

It was Tommy's aunt who called and told her Tommy had been killed. She drove to Eureka and arranged his funeral, which was held in Fresno. She recalls that time as "a blur."

"I was very emotional," Barragan told plaintiffs' attorney Dale Galipo. "I was angry. When someone dies, basically your heart breaks."

She said she and her son had always joked about him having to change her diapers someday. Instead, she was burying him.
She had no idea what he would have wanted, because they had never discussed his death.

"I didn't even know whether he wanted to be buried or cremated," she sobbed.

Barragan, under questioning by Galipo, said she paid more than $6,300 in funeral expenses. She also received bills from the ambulance company and the hospital where her son was declared dead.

Barragan said "everything" reminds her of her lost child, and she will never be the same.

"No, I lost a piece of me," she said. "There's no more to lose. My heart is broken. This is the worst pain ever."
Attorney Nancy Delaney, representing the city, expressed her condolences to both parents and apologized that she needed to question them as part of her job.
Lance McClain, 46, confirmed to Delaney that he hadn't seen his son for seven months before his death. The father also said he had not been employed since 2005 and was not on disability. And at one time he, his 38-year-old brother and Tommy McClain had all been living with Lance McClain's mother.

Barragan, questioned by Delaney, said her son was "a few credits" shy of high school graduation. He grew up living with her, but when he turned 18 or 19 they agreed that he needed to go to school or work. At that point he moved in with his father in Madera, where he apparently stayed until he moved to Eureka.

The civil case is expected to go the jury as early as Friday.
###
THE TOMMY MCCLAIN INCIDENT:
###
Outpost contributor Rhonda Parker previously covered courts for the Times-Standard.