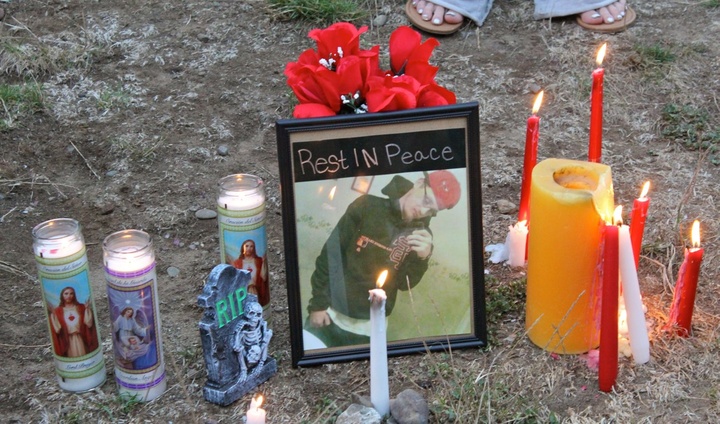 ###
PREVIOUSLY:

###
CORRECTION, Saturday, 12 p.m.: This story originally reported that the amount awarded to the McClain family was $300,000. This is incorrect. There was some confusion regarding the the amount and how it was split. The correct amount awarded to McClain's parents is $150,000.

###
Eureka police Officer Stephen Linfoot did not use excessive or unreasonable force when he shot 22-year-old Tommy McClain to death in September of 2014, a federal jury decided today.
The six jurors deliberated less than five hours before reaching their verdict about 5 p.m. They did find, however, that both Linfoot and McClain were negligent, with each sharing 50 percent responsibility. They awarded McClain's parents $150,000, to be split equally between the two.
"We're pleased that the jury concluded that Officer Linfoot did not use excessive force and that no constitutional right of Mr. McClain was violated," defense attorney Nancy Delaney said after the verdict was announced. "We're uncertain as to the basis for the determination of negligence."
Jurors left the federal courthouse immediately, with the jury forewoman indicating to Delaney that she was reluctant to comment about the panel's reasoning.
Police Chief Andrew Mills said the $150,000 awarded was "a long distance from the $10 million they originally wanted." But Mills said there was no glory in the verdict because a young man lost his life.
"It still hurts," Mills said, adding that his officers were put in "a terrible position."

Now, "It's time to move forward."

EPD officers were on surveillance in McClain's Allard Avenue neighborhood, looking for a "Most Wanted" suspect, when they watched McClain have a confrontation with a man who had parked his truck across the street. After that encounter, officers testified, McClain adopted an aggressive manner and began fiddling with something in his waistband. When they saw him take a gun out of his pants and "rack the slide," they decided police needed to confront him.

Officers had a short exchange with McClain, commanding him to put his hands up and come down to the sidewalk. He initially said "You don't have a right to search me." But he raised his hands and began walking toward officers. At least once, probably twice, he lowered his hands and was ordered to keep them up. The last time he lowered them, three officers testified, he reached for the gun stuffed in his waistband. Linfoot shot seven times, with three bullets striking McClain.

The gun looked exactly like a semiautomatic pistol. But it turned out to be an unloaded pellet gun.

McClain's father, asked how he was feeling after the verdict, said "I've been better."

"My son didn't deserve to go out like this," he said. But the elder McClain also said he was pleased that Eureka police were held somewhat accountable.

Jamie Bowman, Tommy McClain's aunt, said they had just wanted justice and were pleased with the outcome. She said she hopes the verdict will stop similar tragedies in the future.

"We fought for Tommy and we didn't sell out," Bowman said. "Things like this have got to stop."

Plaintiffs' attorney Dale Galipo had argued that McClain was not reaching for his weapon but had put his hands down because he thought officers wanted him to get on the ground. Much of the evidence in the case centered on whether McClain was hearing conflicting commands, such as "Keep your hands up" and "Get down."

Apparently jurors did not give much credence to that theory, nor to the testimony of McClain's housemate Nichole Mottern. She was "100 percent sure" that McClain had his hands in view when he was shot.

Galipo said today that he was pleased with the verdict.

"I think the family felt they needed to go through this process," Galipo said. "I was happy (the jury) found at least partial responsibility. The family is pleased. I think this is going to help them with their closure."

Jeanne Barragan, Tommy McClain's mother, said her hope is that this verdict might cause police to review their "policies and procedures."

"Just so this doesn't happen to someone else," Barragan said.

It will forever remain a mystery why McClain decided to pull a fake gun on police officers with real guns trained on him.

One factor both attorneys agreed on, though for different reasons: "it doesn't make any sense."
###

THE TOMMY MCCLAIN INCIDENT:
###
Outpost contributor Rhonda Parker previously covered courts for the Times-Standard.