A visiting judge refused this morning to allow manslaughter suspect Marcia "Marci" Kitchen to travel to Oregon and visit her boyfriend's ailing sister.

"The motion is denied," Judge Graham Cribbs said. He repeated "The motion is denied," prompting Deputy Conflict Counsel Meagan O'Connell to say "I heard the court."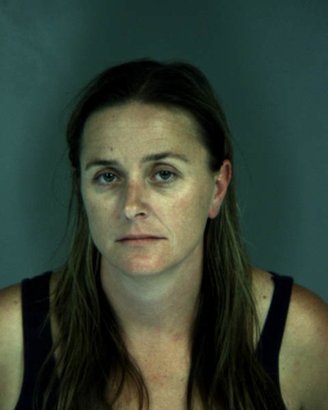 Kitchen, accused of running over and killing her daughter and another teen-age girl while driving drunk, had planned to be out of town between tomorrow and March 20. She is free on bail but can't leave California without a judge's approval. Judge Christopher Wilson once allowed Kitchen, 40, to travel to Oregon for her boyfriend's grandmother's birthday party. Cribbs was not inclined to let her make a second trip.
"In my opinion the relationship between Ms. Kitchen and the person who is obviously ill is not close enough," the judge said. He said he also was concerned about her leaving the area.
Deputy District Attorney Stacey Eads had objected to Kitchen's plans, saying "the potential of fleeing our jurisdiction is a concern."
O'Connell had argued Kitchen has been granted permission to travel in the past "and she has always returned."
"She will make all her court appearances," O'Connell promised.
After she was arrested and posted $750,000 bail, Kitchen traveled out of the country twice. At the prosecutor's request her passport was revoked, and she was told she couldn't leave the state without permission.
Kitchen had been represented by private attorneys Ben Okin and Patrik Griego since her case began in the fall of 2016. Okin and Griego were allowed to withdraw as attorneys last week because Kitchen has run out of money to pay them.
This morning O'Connell, the newly appointed attorney, told Judge Cribbs she will be ready for trial May 29 as scheduled.
Kitchen was in court for the hearing but didn't speak. Among the charges against her are two counts of manslaughter and an allegation that she fled the scene after her Jeep struck the girls on Eel River Drive.
Kiya Kitchen and Faith Tsarnas, both 14, were skateboarding in the road when they were hit from behind. Tsarnas was dead at the scene, and Kiya died the next morning in an Oakland hospital. Marci, her ex-husband Joe Kitchen and their son Jevin were at her side.
Joe Kitchen didn't learn until after his daughter died that Marci was the driver.
###
PREVIOUSLY: