Subscribe to Humboldt Holding Up on iTunes!
Since COVID canceled all our in-person fun last year, possibly no one has maintained the "show must go on" attitude like the organizers of Humboldt's LGBTQ+ party and drag show Club Triangle. Almost immediately after canceling the in-person event, the first online Club Triangle was born and has continued in some form every week since March, 2020.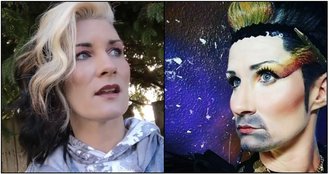 On this week's episode of Humboldt Holding Up, Noël August — better known by locals as drag king Tucker Noir — discusses the importance of keeping the event going, adapting to the pandemic and plans for Club Triangle moving forward.

August also discusses the many other things that have been keeping her occupied during the last year, including working on that Jason Segel movie that recently filmed in Humboldt, teaching online dance classes, serving on the Community Advisory Board for the College of the Redwoods Police Academy, and somehow balancing all of that with raising children.
Click the audio player above to hear August's chat with Andrew Goff and Stephanie McGeary and scroll through past guests below!
Club Triangle's Streaming Saturdays is all day every Saturday on Instagram and (coming soon) on Twitch.

PREVIOUS GUESTS: