The trial for vehicular manslaughter suspect Marci Kitchen will be delayed until at least July while Kitchen's new lawyer explores a different line of defense.

This morning Deputy Conflict Counsel Meagan O'Connell, who took over the case in March when Kitchen's two private attorneys bowed out, said she has a "different opinion than the previous attorneys on one aspect of the case."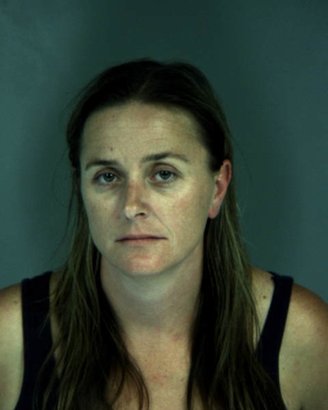 "There were certain things that were not investigated that I would like to have investigated," O'Connell told Judge Kaleb Cockrum. O'Connell said hiring a new expert and looking into this aspect would take about six weeks.
Cockrum closed the courtroom briefly so O'Connell could explain her plan in detail, then granted the continuance. He said he was concerned about the delay, but understood that with "new eyes on the case," more time might be needed.
Kitchen, 40, is accused of running over and killing her daughter Kiya Kitchen and Kiya's friend Faith Tsarnas, both 14, as they were skateboarding on Eel River Drive on July 12, 2016. It's alleged Kitchen was driving drunk and fled the scene afterward.
This morning Deputy District Attorney Stacey Eads strongly objected to the delay, saying the victims' families have waited too long — almost two years — for justice.
"The victims have a right to a speedy resolution in this matter," Eads told the judge, saying their rights "have already been violated."
Eads read a letter from Tsarnas' parents, who said their lives have been changed "beyond description."
"As a family, we are in desperate need of closure so we can begin to heal," the letter stated.
Kitchen was formerly represented by private attorneys Patrik Griego and Ben Okin, who withdrew after Kitchen could no longer pay their legal fees. At that time Eads said she was concerned the already-overburdened Conflict Counsel's Office would not be able to go to trial May 29 as promised.
"This very situation is why the People opposed the motion to withdraw," Eads said, "and even suggested … that Mr. Griego or Mr. Okin be appointed in order to prevent this very situation that we find ourselves in this morning."
Eads pointed out "it will be two years since the tragic collision that took the lives of these two young girls."
O'Connell, standing next to Kitchen in the courtroom, said she "wants the trial to proceed as soon as possible as well."
Cockrum offered three possible trial dates that would fit his schedule: July 9, July 16 and Aug. 20. He scheduled a hearing for May 9 to set the date.
Kitchen was arrested after a two-month investigation into the fatal crash. She posted $750,000 bail and remains out of custody.
###
PREVIOUSLY: