The trial of double-manslaughter suspect Marcia "Marci" Kitchen has been put off again, this time because the defense plans to file a motion based on an expert's investigation of the tragic case.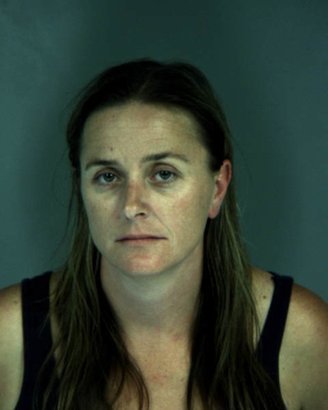 Both prosecutor Stacey Eads and defense attorney Meagan O'Connell declined to comment today on what the motion will be. One possibility is a request to move Kitchen's trial out of Humboldt County because of extensive publicity. Kitchen is accused of running over and killing two 14-year-old girls, one of them her own daughter, while driving drunk on Eel River Drive on July 12, 2016.

The teens were skateboarding in the road when Kitchen's Jeep slammed into them from behind. She then allegedly fled the scene, driving to her nearby home and asking her teenage son to ram her wrecked Jeep into a basketball hoop.
This afternoon, after meeting privately with the two lawyers, Judge Kaleb Cockrum reluctantly canceled Kitchen's Aug. 20 trial and rescheduled it for Sept. 4.
"It's not an easy decision and I don't want to make it," Cockrum said, but he noted he must balance Kitchen's rights with those of the victims and their families.
O'Connell submitted a written declaration to the judge, and also said in court that the defense expert will be finished with his work on Aug. 23, and she plans to file her motion the next day. The judge told her to have a preliminary motion filed by Aug. 3.
Eads opposed the delay, noting that twice before the defense said no more continuances would be requested, and now it's happening again.
"It's been two years now since these two young girls were tragically killed," Eads said, noting that the teens and their families deserve justice.
One of the girls, Faith Tsarnas, died from her injuries at the scene. Kitchen's daughter Kiya Kitchen was airlifted to Oakland Children's Hospital, where she died the next morning.
Kitchen, 40, was arrested after a two-month investigation by the California Highway Patrol. She posted $750,000 bail and has remained out of custody, though she can't leave the United States and can only leave California with a judge's permission. The two private attorneys she initially hired withdrew from the case in May, saying Kitchen had run out of money to pay them. O'Connell, who is with the county's Conflict Counsel's Office, was appointed at that time.
Kitchen was not in court today. But Joe Kitchen, her former husband and Kiya's father, was in the courtroom audience.
###
PREVIOUSLY: