The jury trial for double-manslaughter suspect Marci Kitchen is now set to begin in August.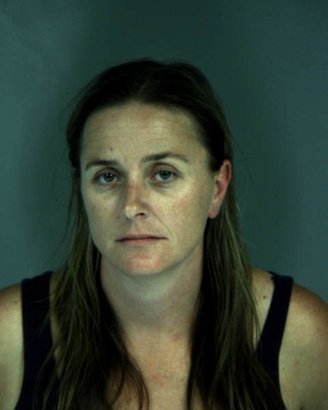 This morning Judge Kaleb Cockrum set Aug. 20 as the trial date for Kitchen, accused of running over and killing her daughter and another 14-year-old girl as they skateboarded on Eel River Drive on July 12, 2016. Kitchen was allegedly driving drunk and fled the scene after her Jeep struck the teens.
Cockrum also scheduled Aug. 9 for trial confirmation, Aug. 6 for attorneys to submit jury questionnaires and pre-trial motions and July 18 for an intervention hearing. Interventions are generally held in a closed courtroom, giving attorneys a chance to privately discuss how their cases are proceeding.
Kitchen, 40, is charged with killing her daughter Kiya Kitchen and Kiya's friend Faith Tsarnas, who was visiting from out of town. Marci Kitchen's son testified at the preliminary hearing that after the fatal crash, his mother arrived home intoxicated and asked him to ram her wrecked Jeep into a basketball hoop in their driveway.
Kitchen was accompanied to court this morning by an older couple. Her former husband Joe Kitchen, Kiya's father, was also there with a group of supporters.
The trial has been delayed repeatedly, first when Kitchen was represented by two private attorneys. They withdrew from the case when Kitchen ran out of money to pay them, and the Humboldt County Conflict Counsel's Office was appointed to replace them. At the last hearing, Deputy Conflict Counsel Meagan O'Connell said she was looking into a new defense theory and needed time to line up an expert to testify.
The trial is expected to last six weeks.
Kitchen was arrested after a two-month investigation by the California Highway Patrol. She posted $750,000 bail and remains out of custody, although her passport has been seized and she is not allowed to leave California without a judge's permission.
Deputy District Attorney Stacey Eads is prosecuting the case.
PREVIOUSLY: