The last of five defendants in a fatal December 2016 carjacking is scheduled for trial in June.
This morning Judge Kelly Neel set a June 1 trial date for Cesar Octavio Valenzuela, the one defendant who has not pleaded guilty to charges related to the carjacking and killing of 20-year-old Tyson Eduardo Claros.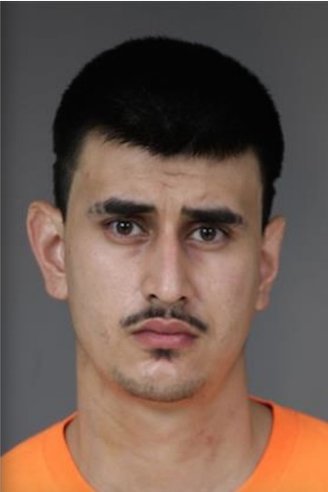 Valenzuela, 26, allegedly went to the driver's side of the car Claros was riding in and pointed a gun at the female driver, screaming at her to "Get the fuck out of the car." Then Claros was shot multiple times by 25-year-old Brandon James Mitchell, who recently pleaded guilty and is scheduled to be sentenced this week to 27 years in state prison.
Valenzuela's former girlfriend Tamara Nicole Thomson, 21, will receive a 14-year term, with 24-year-old Hector Godoy-Standley sentenced to four years for being an accessory.
Godoy-Standley's former girlfriend Catherine Suzanne Lynn Fode, 21, pleaded guilty to voluntary manslaughter some time ago and agreed to testify against the others at trial. She will most likely not be sentenced until all the other cases have resolved.
Fode is looking at a maximum sentence of 12 years.
All five remain in Humboldt County Correctional Facility, where they have been for more than three years.
PREVIOUSLY:
###
In other court news, Willow Creek resident Carmen Marie England, accused of embezzling from the North Coast Journal while working there as a bookkeeper, will not go to trial this month as planned.
This morning Deputy Public Defender Wade Orbelian, representing England, told Judge Kelly Neel he recently received more evidence that needs to be reviewed by the defense expert.
"We have new discovery I want our expert to look at," Orbelian said. "The expert is in the middle of tax season right now."
England's trial had been set to begin Feb. 24. Today her next hearing was scheduled for May 4, when a new trial date may be set.
England, 59, is suspected of stealing about $60,000 from the weekly publication and is charged with grand theft by embezzlement. During her preliminary hearing, she acknowledged she changed numbers to balance the Journal's books, but said she did so after being explicitly instructed by publisher Judy Hodgson.
Deputy District Attorney Steven Steward, prosecuting the case, did not object this morning to the defense request for a continuance.
PREVIOUSLY: