Double-manslaughter suspect Marcia "Marci" Kitchen wore a blue jail jumpsuit this morning during a planned hearing on whether she should be incarcerated until her sentencing.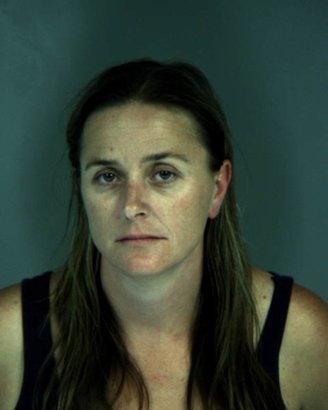 Kitchen, 41, turned herself in Monday and was booked into Humboldt County Correctional Facility. Today she was in court for about two minutes, looking tearful and almost panicky. Defense attorney Meagan O'Connell sat next to her in the jury box and spoke with her briefly. Then bailiffs led her out of the courtroom and back to her cell.
During her absence, Judge Kaleb Cockrum ruled she would be held without bail until her sentencing Sept. 18.
When Deputy District Attorney Stacey Eads expressed concern about proceedings being held without Kitchen there, defense attorney Meagan O'Connell responded that Kitchen has a waiver of personal presence on file.
"Ms. Kitchen voluntarily turned herself in," O'Connell said. "She understands what's going on in court today."
By surrendering herself, Kitchen avoided the spectacle of arriving in court in civilian clothing, only to be handcuffed by bailiffs and taken away to jail.
About 20 friends and family members of Kiya Kitchen and Faith Tsarnas, killed in July 2016 when Kitchen's Jeep hit them on Eel River Drive, were in the courtroom audience this morning. Kitchen has admitted she was driving under the influence when her car struck her daughter and Tsarnas. She also has pleaded guilty to leaving the scene afterward.
Much of the discussion this morning was about media coverage of the sentencing hearing. Cockrum said he plans to allow one still camera and one video camera in the courtroom. O'Connell objected, saying filming the proceeding "could cause additional frenzy."
"This is one of, if not the most, highly publicized cases in Humboldt County history," O'Connell said. "There have been a number of threats against Ms. Kitchen and she has already been ostracized in the community. Ms. Kitchen would ask the court not to have her videotaped and photographed."
O' Connell repeated that Kitchen has received threats "and has been turned away locally."
She was especially concerned that Kitchen, who plans to make a statement to the judge, has a right to do that "in a way that's comfortable for her."
Cockrum said he would not allow Kitchen to be filmed or photographed while she was speaking. But he said allowing media coverage is important for "maintaining public trust and confidence" in the judicial system, "and to show the public what we do here."
It's expected numerous people will address the court about Kitchen's pending sentence, which could range from felony probation to about 11 years in state prison. Prosecutor Eads asked the judge whether it might be possible to broadcast the hearing into the Board of Supervisors chambers, where an overflow crowd may gather.
"I will ask about that," Cockrum said.
In holding Kitchen without bail, Cockrum said he was considering public safety and the seriousness of her offense. O'Connell said, however, that Kitchen is not threat to the public. She has no prior criminal history, and while free on bail for two years has committed no other crimes.
Outside on the courthouse lawn, about a dozen people held up signs demanding justice for Faith and Kiya. Several held a large banner with a photograph of the two 14-year-old friends. Many drivers passing on Fifth Street honked their horns or yelled in support.
###
THE KITCHEN CASE: