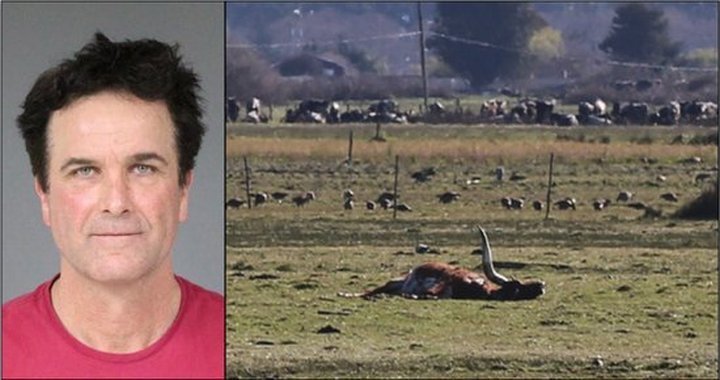 ###
Jurors in the second trial of Arcata rancher Ray Christie will learn about the many cow carcasses found on his property, but they won't hear the prosecution's theory that Christie was switching ear tags to falsely identify some cows as "organic."
"Tags out, carcasses in," Judge Christopher Wilson ruled this morning after hearing attorneys argue about which evidence is relevant in Christie's upcoming trial on four felony counts of animal cruelty.
Wilson, who presided over the first trial, said "I've not seen evidence of any kind of tag-switching."
Officers who raided Christie's Arcata Bottoms ranch in 2018 found about 1,300 metal tags in a bucket, leading them to suspect the metal tags had been discarded and replaced.
"A bucket of these doesn't mean anything," defense attorney Rick Richmond said, holding up a baggie containing metal tags.
As to the piles of carcasses on the ranch, Richmond argued that even in the healthiest herds, the mortality rate is as high as 10 percent. Christie processes up to 50,000 cows a year, he said, with 10 percent adding up to 5,000 dead animals. An estimated 200 were found on his ranch.
No-one, including Christie, would describe his herd as healthy. He buys sick cows at the Fortuna auction with the goal of rehabilitating them and selling them for a profit. Some of the cows are already dead when he gets home to Arcata.
At the first trial, the jury convicted Christie of numerous misdemeanor counts of dumping carcasses near state waters. Jurors deadlocked 11-1 on the animal cruelty counts, with the lone dissenting juror unwilling to convict.
Richmond argued today the carcasses are not related in any way to the accusations of animal cruelty, saying the prosecution must prove the connection.
"There's no proof of how these carcasses became carcasses," he said.
"There were a lot of dead animals on Mr. Christie's property," Wilson responded. "Should a jury be precluded from hearing that? I don't think so."
Wilson said he wants the jury to have a full picture of the general condition on Christie's properties, and the carcasses are part of the picture.
Deputy District Attorney Steven Steward referred to photographs displayed during the first trial, showing cows with no access to food and water.
"They are on the verge of dying from dehydration and lack of food," Steward said.
Wilson commented that if he owned sick and dying animals and figured they weren't going to make it, he'd be thinking about getting them to the rendering plant in Redding. Humboldt County has no rendering plant and hasn't for many years.
To further complicate the pre-trial proceedings, last month agents from the federal Department of Agriculture raided the Arcata Bottoms ranch and seized evidence. So far no federal charges have been filed. But Humboldt County law enforcement participated in the raid, and Richmond believes they were seeking evidence to use in the local trial.
"It was a federal raid and it was supposed to be a federal search," he said. Instead, Humboldt County officers were "completely out of control."
"They were questioning the ranch hands about the care and feeding of animals, riding their bicycles around the property taking pictures," Richmond said.
He has filed a motion to suppress any evidence seized during the latest raid.
Prosecutor Steward says he hasn't decided whether to use anything gathered in the federal operation.
"I'm not sure of what evidence may have been seized," he said.
Wilson has not seen the motion to suppress and said it would be premature to discuss it at this point.
Outside of court, Richmond announced "Mr. Christie is innocent of all charges. That's my quote for the day."
The next hearing is scheduled for Nov. 30. The trial is set to begin in January.