(AUDIO) Sgt. LaFrance is Holding Up
On this week's edition of Humboldt Holding Up — LoCO's lo-fi, COVID-flavored podcast — we speak with Eureka Police Department Sergeant Leonard LaFrance about being a cop in 2021. A 14-year veteran of EPD, these days LaFrance heads up the Community Safety Engagement Team (CSET) which concentrates on the city's Old Town and waterfront areas and handles many of the calls associated with homelessness and mental health emergencies.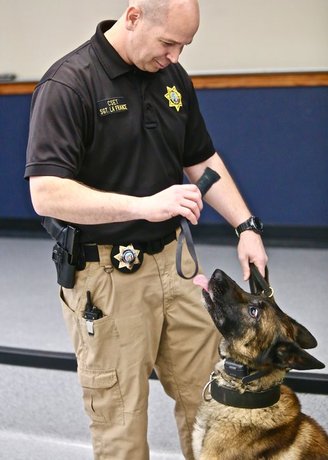 It's been a grueling couple of years for those tasked with keeping Old Town safe for everyone. With the situation in Eureka already dire, LaFrance tells us that his team has had to constantly adapt to the ever-changing conditions thrown at them by COVID and its effects on how the community functions.
"Things really took a turn," LaFrance says about conditions in Eureka at the onset of the pandemic. "We saw a lot of resources leave the streets and completely pull back their services. And here we are, because we're law enforcement we don't back off. We have to move forward and serve the community."
Topics on this week's episode include:
LaFrance's journey from growing up in upstate New York, to attending college in Nebraska, to working with the US Forest Service in Mad River to finding his way to EPD in 2007
The role of CSET and the challenges to serving the homeless community during a pandemic
Law enforcement staffing shortages, both locally and nationally, and current public perceptions of police
The loss of Sgt. LaFrance's longtime furry partner in crimefighting, K9 Unit Vex
More
Click the audio player above (or subscribe on Apple Podcasts here) to listen to LaFrance's chat with the Outpost's Andrew Goff and Stephanie McGeary and/or scroll through past Humboldt Holding Up guests below.
PREVIOUS HUMBOLDT HOLDING UP GUESTS: