(AUDIO) Jesse Duncan Has an IRL Cannabis Conversation
Many major players in Humboldt's cannabis economy gathered at the county courthouse this week with a message: We are struggling and we need help. After decades of growing weed illegally in an unregulated wild west, a period when astronomical profits built countless fortunes for those brave enough to risk legal peril in the rugged hillsides, many growers say they are struggling to maintain their way of life in a post-legalization world.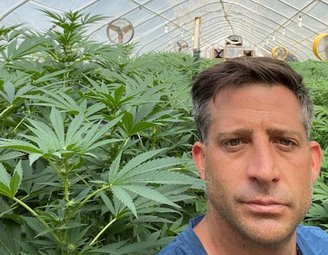 What does this downturn mean for Humboldt County, which for years has garnered much of its identity from its association with this plant? On this week's episode of Humboldt Holding Up, we speak with Jesse Duncan, a lifelong Humboldt resident and legal commercial cannabis cultivator who recently launched his column "The Cannabis Conversation" here on the Outpost. Duncan says there is a lot of fear about the future of the industry locally, much of it currently centered on the regulatory structure folks in his industry believe just isn't working.
"People are scared," Duncan told the Outpost. "I run a no-cost consulting platform in the offseason where I speak with small farmers and help them with business and financial matters and it's gotten to point where people are concerned not only about their livelihoods but being able to maintain their properties. It's a very heavy time in this space."
Click the audio player above (or click on over to Apple Podcasts here) to listen to Duncan's wide-ranging chat with the Outpost's Stephanie McGeary and Andrew Goff on many topics surrounding Humboldt's cannabis world and also feel free to scroll through our past guests below.
PREVIOUS HUMBOLDT HOLDING UP GUESTS: