If you read the news, or just live in Humboldt, you're surely familiar with the work of beloved local philanthropist Betty Kwan Chinn, who has spent the last four decades tirelessly serving the local homeless community.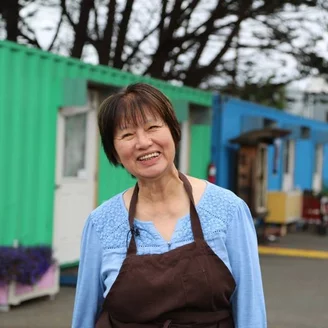 And Chinn loves the work she does so much that after all those years, working sometimes 20-hour days, she has no plans to slow down any time soon.
"My mother lived to 104 years old, and I will work until the day I die," Chinn told the Outpost when asked about her retirement plans. "…I don't need anything…When you are free from power and greed, you are free yourself. I feel free everyday."
Chinn talks about her passion for helping those in need on this 100th — and final — episode of Humboldt Holding Up, the Outpost's long pandemic podcast experiment. Chinn also discusses the heartbreak she felt when her trailers were recently burned down, the elation she felt when receiving an honorary doctorate from Cal Poly Humboldt and some of trials of helping the homeless during COVID.
As a special treat, Chinn also entertains our "lightning round" of silly questions, sharing her love of Star Wars, her admiration of Obama and that time she met Bono, but didn't know who he was.
So, for the final time, click the audio player above or head over to Apple Podcasts to hear Chinn's chat with LoCO's Stephanie McGeary and Andrew Goff.
###
PREVIOUS HUMBOLDT HOLDING UP GUESTS: